Description
GOGOBEST GF700
Vélo de montagne électrique GOGOBEST GF700, chaque détail est conçu, profitez d'un nouveau voyage.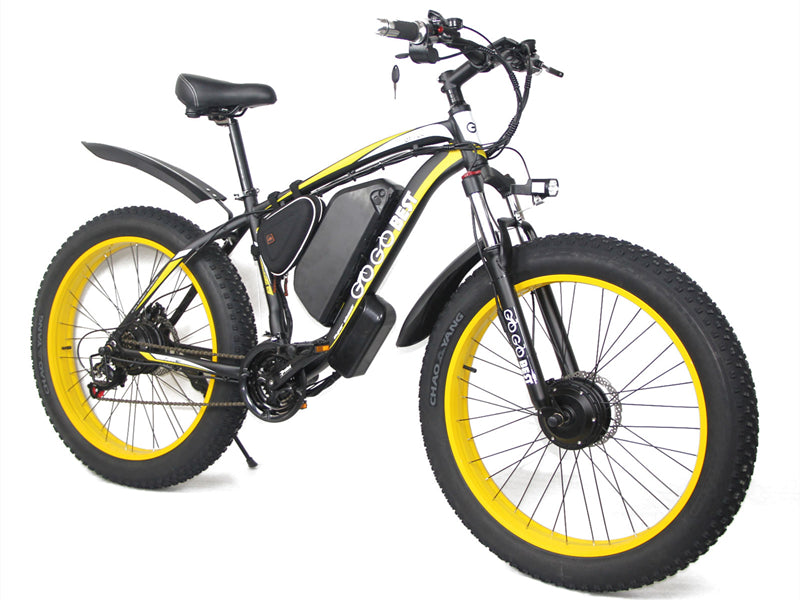 GOGOBEST GF700 Vélo de montagne électrique, cadre en alliage d'aluminium léger, structure de suspension à double ressort à huile avant et arrière. De plus, batterie au lithium nouvellement améliorée de 48 V 17,5 Ah, excellent moteur sans balais à grande vitesse de 48 V 1000W. ?Utilisant un disque d'huile hors tension, un diamètre de roue de 26 * 4,0, adapté aux routes enneigées, aux routes asphaltées, aux routes de gravier et aux nids-de-poule. Pour vous accompagner pour explorer plus de plaisir de rouler partout.
1000W DOUBLE MOTEUR
Les pilotes à double moteur (puissance d'un seul moteur 500W, puissance totale 1000W), ont une puissance de sortie rapide et 4,9 s jusqu'à pleine vitesse, avec un taux de conversion d'efficacité énergétique amélioré et de merveilleuses performances de vitesse, ont également de bonnes performances en termes de maniabilité, de stabilité, de freinage et escalade.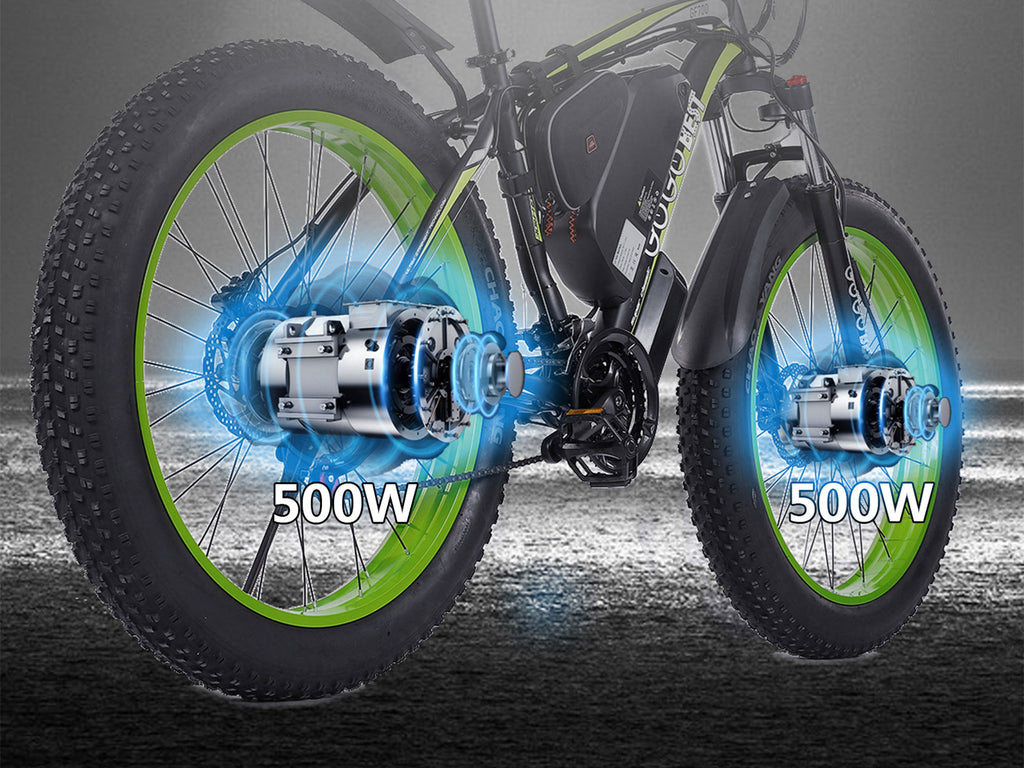 BATTERIE AMOVIBLE 48V 17,5AH
Batterie 48 V, 17,5 Ah, amovible, complètement cachée à l'intérieur du cadre, étanche à l'eau et à la poussière, double protection, forte puissance, toujours stable. Il peut atteindre un kilométrage d'environ 50 km en mode électrique pur et d'environ 70 km en mode assisté.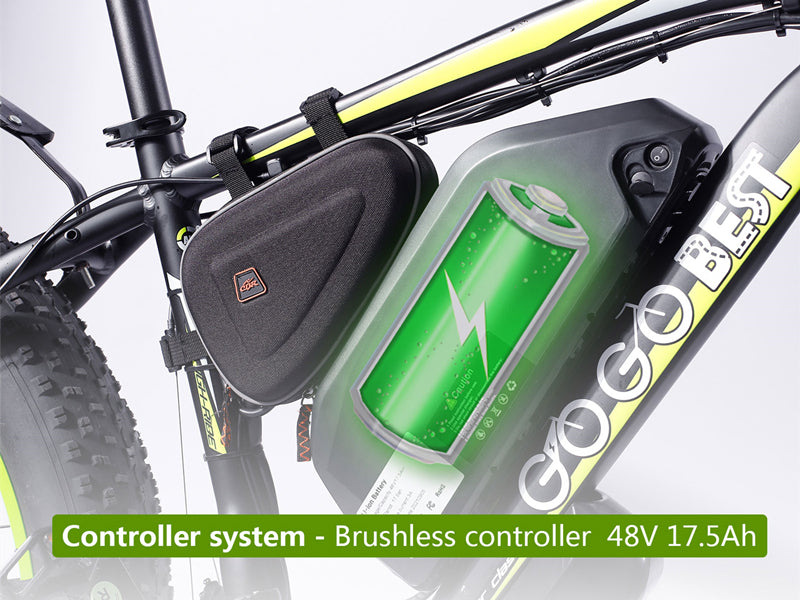 PERFORMANCE
Le moteur double 48 V 1000W fournit la puissance nécessaire pour rouler dans une montée maximale de 45°. Son utilisation interne de la conception d'engrenages en étoile peut amplifier le couple et améliorer la conversion de l'efficacité énergétique, améliorant ainsi les performances de vitesse et les performances de montée.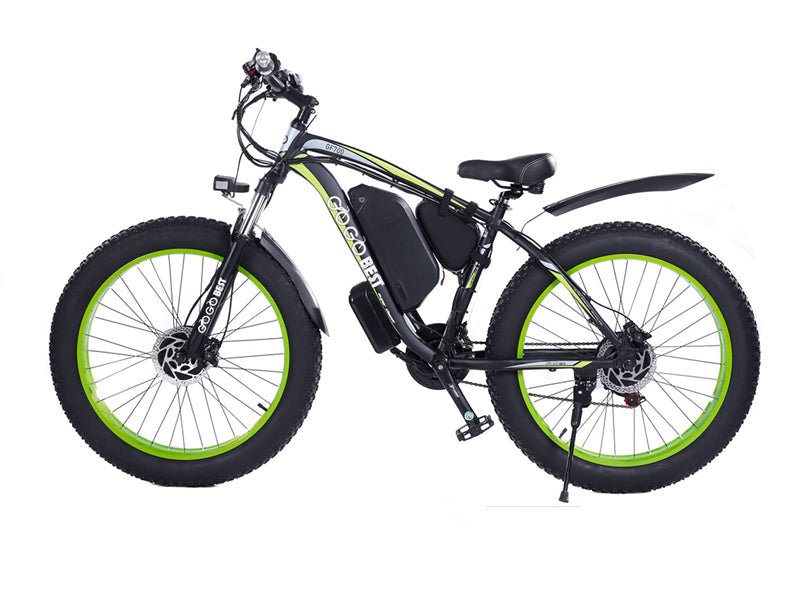 Écran LCD de 5 pouces , instrument LCD intelligent, toute nouvelle interface interactive, commutateur de vitesse intégré, affichage des données du vélo, réglage de la puissance de sortie, qualité étanche et anti-poussière IP54 
26*4. 0 Fat Tire s , roue de 26*4,0 pouces, confortable et stable, adapté à toutes les routes. fonctions antidérapantes et anti-vibrations, et a une portée plus longue, plus grande, plus rapide et moins d'effort.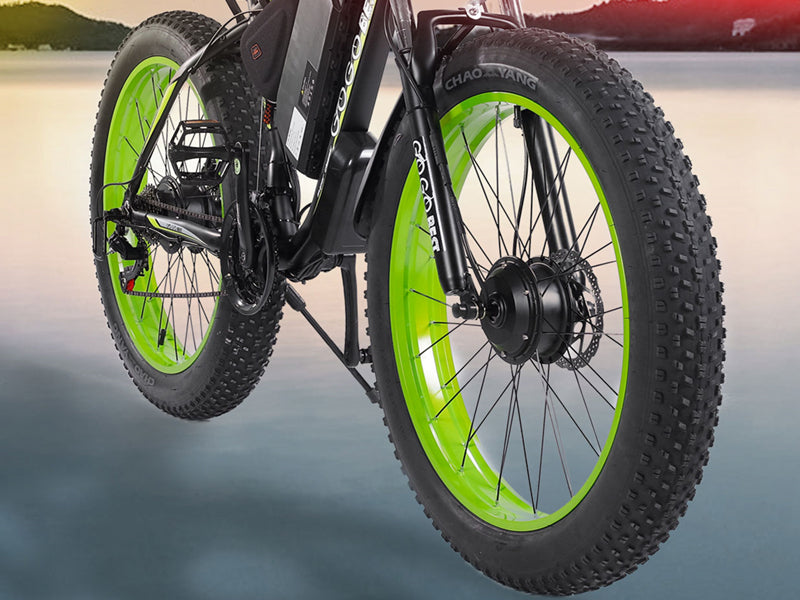 Frein à disque hydraulique , adoption d'un disque d'huile à mise hors tension hydraulique, système double de freins à disque avant et arrière, disque de frein à disque S, dissipation rapide de la chaleur, pincement des leviers de frein avant et arrière, le freinage d'urgence peut également freiner efficacement et en douceur.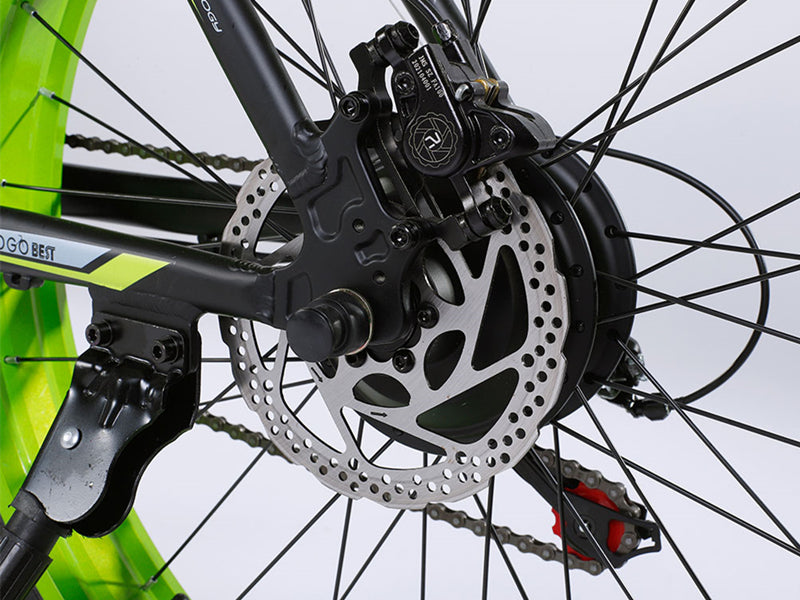 Shimano 21-S peed , système de transmission SHIMANO à 21 niveaux importé du Japon. Le dérailleur avant peut être réglé sur 3 vitesses et le dérailleur arrière peut être réglé sur 7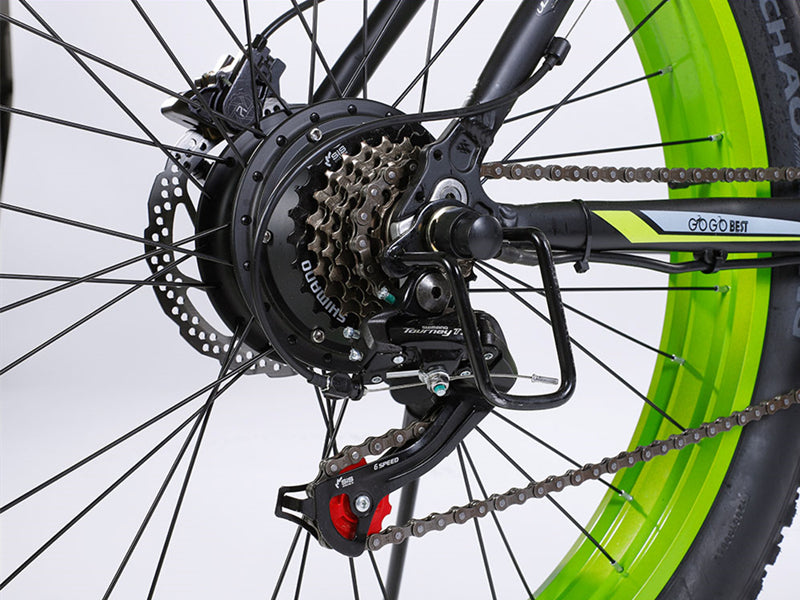 CARACTÉRISTIQUES
Reviews
Color: GOGOBEST GF700 Electric Mountain Bike 48V 17.5A 1000w Electric Mountain Bicycle
Tread Bike, book in a 10-day delay by Ups Very well packed see photos, Trs easy mounting A book completely charge Many thanks to this exellent seller
Color: GOGOBEST GF700 Electric Mountain Bike 48V 17.5A 1000w Electric Mountain Bicycle
Color:GOGOBEST GF700 Electric Mountain Bike 48V 17.5A 1000w Electric Mountain Bicycle
Color:GOGOBEST GF700 Electric Mountain Bike 48V 17.5A 1000w Electric Mountain Bicycle
The bike was after 10 days delivered. Very beautiful bicycle but you gotta first what things together put before you away can ride. Unfortunately lacks the rear reflector (required in Netherlands) but further a very decent bicycle. Simple to fold rendering it occupies little space and unfolded a full function bicycle. Bicycle was neatly packed shipped by UPS. Many options relating to support. Just sits there also a small downpoint. The control of it goes on the multifunctional display with only 3 buttons. All buttons have multiple functions and while driving it is not advisable to turn in the functions because the buttons don't operate are when the hand on the handle is. In addition, you should really look which mode you have. But beyond that it is a nice one bicycle. Seller sends you a app once the bike will be sent.
Color:GOGOBEST GF700 Electric Mountain Bike 48V 17.5A 1000w Electric Mountain Bicycle
I got my long expected bicycle receive and it has a very good size. Thanks for this beautiful e-bike. UPS top-tier delivery within 7 days. Thank you sellers for all promotional gifts in order. I now have a brand new helmet, a sunglasses, a fender, a foot pump, A repair set and as bonus was the bike in a half hour customized. Now with 63 km first very positively surprised. Really good. I highly recommend this seller for unbeatable car quality prices. I'll this bicycle my friends recommend, thank you seller

GOGOBEST GF700 VTT électrique vitesse 50 km/h 48V 17.5A 1000w vélo de montagne électrique
€1.409,00